UNH Poll: Clippers, Leavitt and Huff Brown in CD 1 Hunt; Burns Dominates CD 2
A new UNH poll released Wednesday is the latest to show 2020 candidate Matt Mowers and newcomer Karoline Leavitt in a tight race for the GOP nomination in the First Congressional District. But that comes with a twist: Gail Huff Brown is also in the hunt.
The latest edition of the Granite State Poll, conducted by the University of New Hampshire Survey Center, finds Mowers leading with 26% and Leavitt within the margin of error at 24%. Huff Brown has 16% support, while former executive adviser Russ Prescott and state Rep. Tim Baxter hit 4%.
Leavitt and Huff Brown seized on the news.
"This latest poll from the University of New Hampshire proves what voters know – our campaign is in full swing and Matt Mowers will return to New Jersey on September 13," Leavitt said in a statement. "Although the establishment is spending hundreds of thousands of dollars to save Mowers, they will not dampen our momentum and grassroots support. I'm proud to be America's first local candidate in the race, and I'm thrilled to fire Chris Pappas in November.
Among the GOP groups spending on behalf of the Mowers is the Congressional Leadership Fund, the House Republicans' main super PAC, which is closely affiliated with Minority Leader Kevin McCarthy.
Huff Brown's campaign released a memo saying the poll shows "Mowers seems stuck in the mud as his once formidable lead has dissolved and Karoline Leavitt eats away at her vote share among far-right voters." The high number of undecided voters makes this race a jumping ball, but the momentum is with Gail who will benefit the most as less ideological late decision makers, mainstream and moderate Republicans and independent voters are exposed to her latest advertisement highlighting its support for Hampshire's New Choice Act.
Running a pro-choice ad in a GOP primary is an unusual strategy. In the latest St. Anselm College Survey Center poll, which asked extensively about abortion issues, only 15 percent of Republicans said they were "pro-choice."
The Mowers campaign declined to comment on the UNH poll, which has many critics in Granite State politics who say its methodology of relying on a panel of voters isn't as reliable as other methods. .
Baxter mocked the results on Twitter.
"They call it a poll, but if you read it… Literally not a poll LOL," Baxter tweeted, adding, "We did a flash poll with our mailing list that got 100%. Maybe we should post this and call it a poll.
But multiple sources with access to polling data from various polls told NHJournal they weren't surprised Leavitt's gap was narrowing, after seeing his momentum in recent weeks. Mower support, on the other hand, remained relatively stable.
"Here's the only poll I need," a veteran GOP source told NHGOP. "CLF is pouring $1.7 million to boost mowers. They have lots of data. They wouldn't do this if he was 20 years ahead.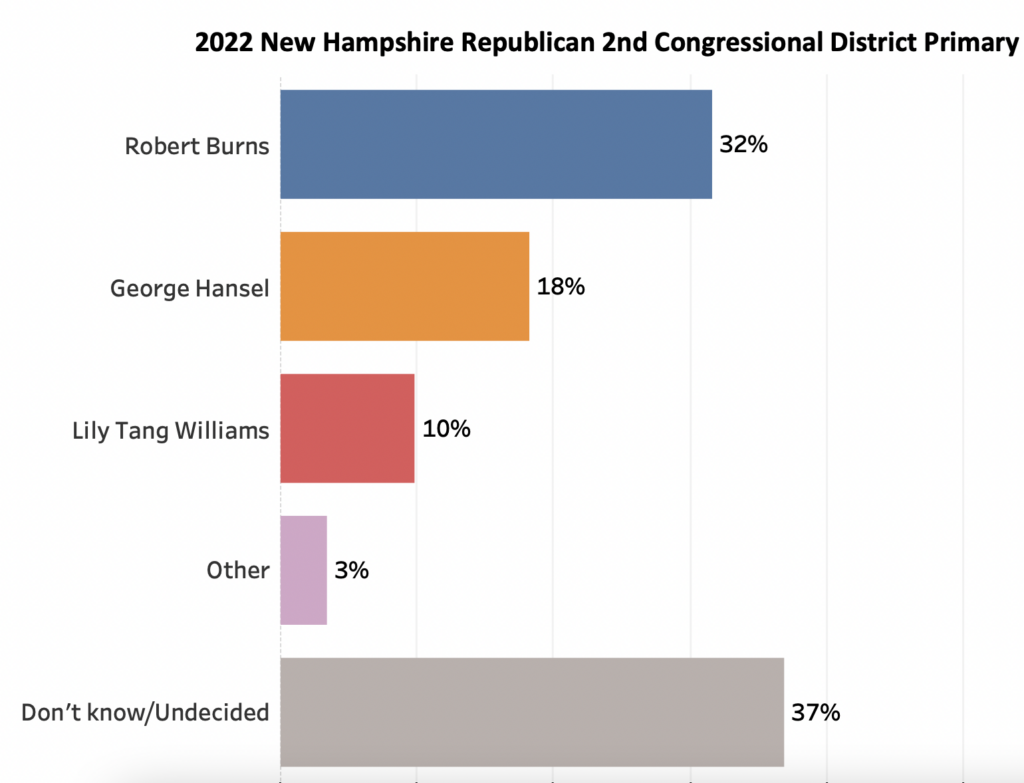 The UNH poll also featured results from the Second District GOP primary. Outspoken pro-Trump candidate Bob Burns has a solid lead over Keene Mayor George Hansel 32-18%, with Lily Tang Williams 10%. But the race leader is still "undecided" at 37%.
Burns was spurred by more than $100,000 in mail and television spending by Democrats promoting his GOP primary bid. It appears to be part of a nationwide strategy to help candidates Democrats deem too extreme to win the November general election.
Another sender – again without the legally required disclosures for political marketing – hit Wednesday.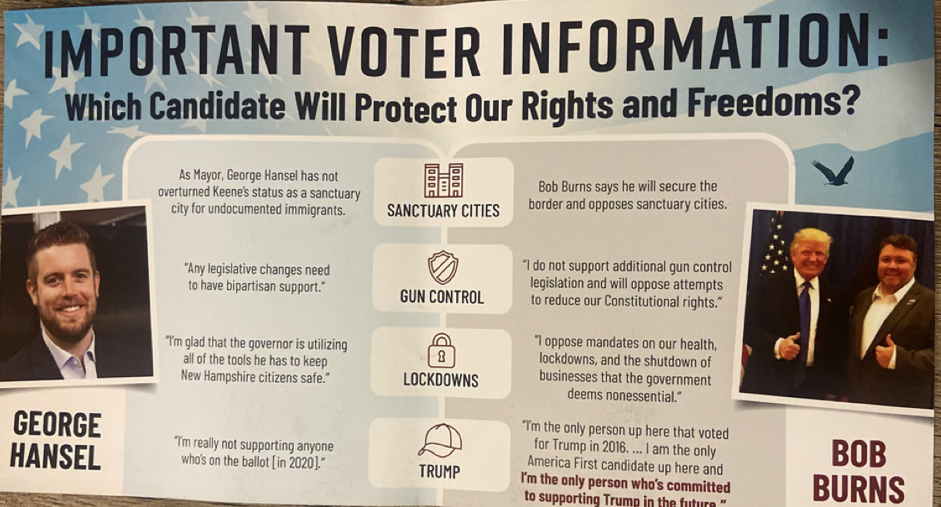 While polls for Democrats nationwide have improved in recent weeks — President Joe Biden's approval nears 42% for the first time in months — Cook's policy report still lists the two congressional seats of New Hampshire like sweepstakes.
---
This story was originally published by the NH Journal, an online news publication dedicated to providing fair and unbiased reporting and analysis of political news relevant to New Hampshire. For more NH Journal articles, visit NHJournal.com.