The QRP-pressed 180g vinyl reissue of the Bill Evans Trio '65 does full justice to a laid-back, forward-looking and quite dynamic recording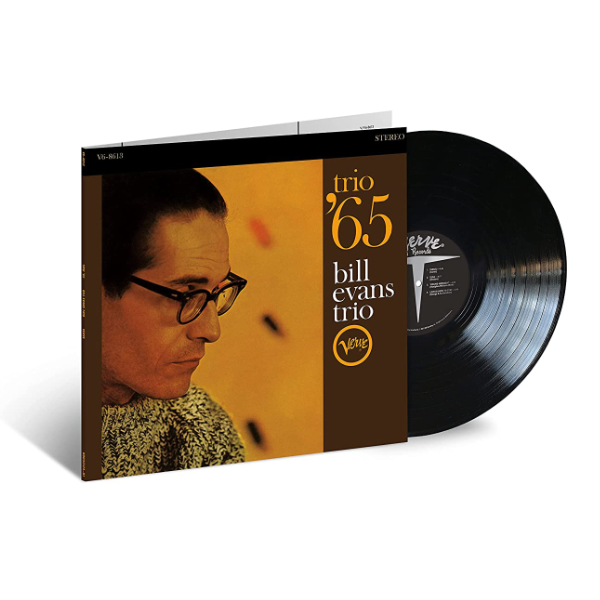 When I saw one of the latest Acoustic Sounds series reissues of a Bill Evans Trio album from the mid-1960s – namely the June 1965 Threesome '65 "I had to stop for a moment and think: Do I really need this one in my collection?
This moment lasted about 5 seconds, as I quickly remembered that (a) there really isn't any bad Bill Evans records, and (b) finding clean originals of many of his albums is not an easy task on the used market.
From a collector's perspective, the Bill Evans Verve Records era doesn't seem as sought after as his work on Riverside. But that doesn't make them any less good. In fact, some of my favorite Bill Evans recordings are on Verve – including the much overlooked and often rejected album, 1966 Bill Evans Trio with Symphony Orchestra.
But just before that, Evans posted a sweet little nugget in Threesome '65, and oddly enough, it's not one of those albums you see a lot in the collecting wilderness (i.e. flea markets, thrift stores, and garage/estate sales). In fact, you don't really see it showing up in collector's shops either.
Indeed, a quick check of online marketplaces like Discogs reveals only six copies of the original available, and none in better than VG-plus condition. Even though it's not a high demand record, prices are up around $60 for these copies. The 2013 ORG 2LP 45rpm reissue sells for over $200 on Discogs and Popsike. (And no, I don't have a copy of that one, sorry to say.)
Which brings us to the question of whether or not you need this reissue in your collection to begin with. Therefore, I offer two immediate responses: (a) yesand B) sure why not ?
The liner notes largely explain the intention of Threesome '65featuring a growing artist: "That's not to say the music here is any more creative than any of his past endeavors. But, on this album, he has managed to couple Evans' powerful originality with a clarity of expression that is a pleasure to hear.
Indeed, we are entitled here to beautiful interpretations of one of Evans' great trios with Chuck Israels on bass and Larry Bunker on drums, who had been recording with him since 1961. They release many classics like "Israel" ( from the legendary February 1957 Miles Davis Collection, Birth of cool), "Round Midnight" by Thelonious Monk and "Our Love Is Here to Stay" by George and Ira Gershwin.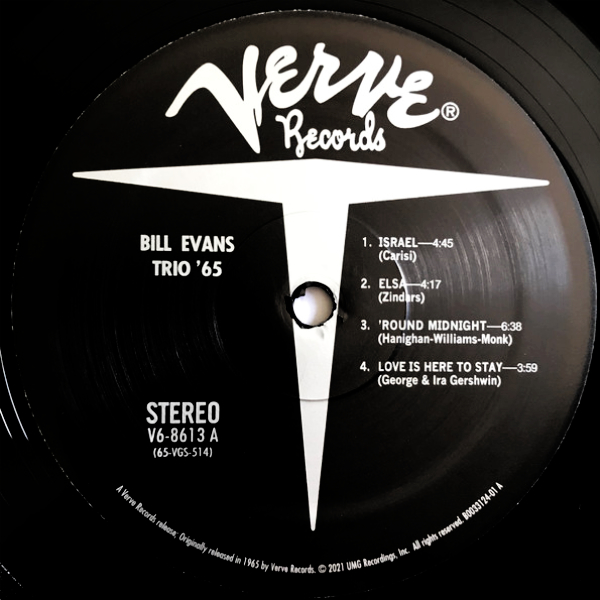 This recording is one of the best Rudy Van Gelder efforts I've heard, with the piano sounding quite rich and open in the center of the stereo mix. Bass and drums are smooth in the right and left channels on either side of Evans in the soundstage. The way the piano is captured here is meaningful to me, as I'm often disappointed with RVG's approach to the instrument.
That said, I really appreciate the set vibe of this set, which feels relaxed yet leaning forward. The group is tight and on the same wavelength as Evans, wrapped around him like a comforting kid leather glove. In short, Threesome '65 is an excellent introspective jazz album from a foggy Sunday morning, if you know what I mean.
According to the official press release for this series, all albums in the Acoustic Sounds series are mastered in stereo from original analog tapes by Ryan Smith of Sterling Sound. The 180g vinyl pressing – made at Quality Record Pressing (QRP) – is quiet and perfectly centered. I can't stress enough the importance of this last factor, because a lot of people seem to be confused about it. [Not me! –MM] This is especially important for an album of piano music where any wobble in the grooves can result in pure notes swinging in and out of chord. That's a big no-no in my book.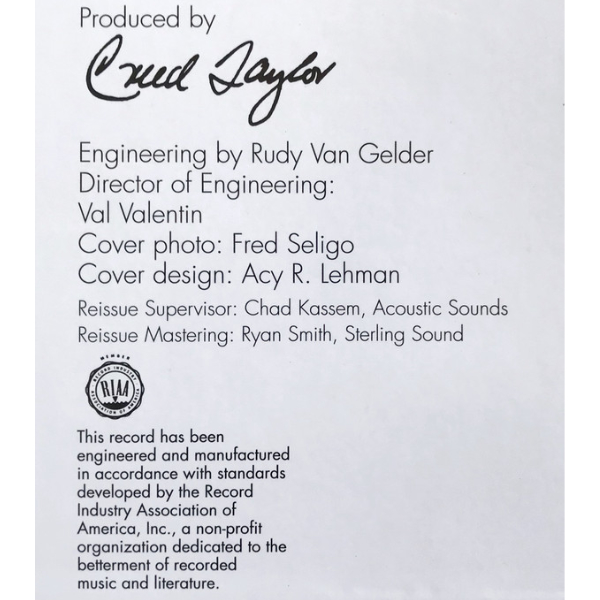 One piece of advice that may be obvious to most people here – but I think is worth mentioning to new readers, collectors and aspiring critical listeners – is this: make sure your stylus is really clean and your listening surface free of static electricity, especially when playing this album. Threesome '65 is quite a dynamic recording, and the piano is one of the most difficult instruments to reproduce accurately on vinyl, especially in a relatively sparse trio like this.
At one point, I heard pee, pee, tiny bits of distortion, a few extremely brief intermittent moments (on "If You Could See Me Now" and "'Round Midnight"). The cause for this may be a number of things, such as the so-called "break-in period" that some albums seem to require.
After going back and cleaning my stylus really well (I use a Goldring 2400 cartridge fitted with a 2100 replacement stylus on a Music Hall MMF 7.1 turntable, thanks for asking!), as well as zapping the record with my trusty Zerostat gun anti-static was much less of an issue – so hopefully whatever I heard continues to fade over time. Thing is, there's a lot of big piano sounds to replicate here, and with such a spare trio arrangement, every little nuance is out in the open and bare in the spotlight.
That said, some of you might appreciate Threesome '65 as a demo disc, think about it. And did I also mention it sounds great when played strong?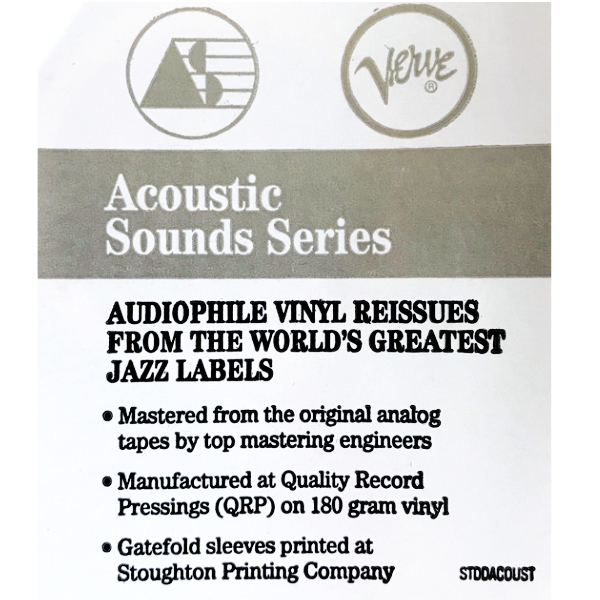 Threesome '65 is packaged in a very high quality, glossy, laminated gatefold sleeve. The press release says it "replicates" the original packaging, but the reality is that it's actually a lot, a lot nicer than most original Verve Records covers I've seen. And, of course, the vinyl comes to you wrapped in an interior audiophile-grade plastic sleeve, and the cover comes packaged in a loose-fitting outer plastic sleeve for safe archiving in your collection. This is a class production!
Given the relative scarcity of original pressings, it would be wise to pick up a copy of this fine reissue if you're a fan of Bill Evans, or even if you're just dipping your toes in its rich and rewarding waters. Threesome '65 is a welcome addition to my Bill Evans collection, I can tell you. More than ever, hearing this trio sound so good makes me want a real, complete remix of that album's underrated (and awkwardly understated) sequel, the aforementioned 1966 release, Bill Evans Trio with Symphony Orchestra. Until this dream comes true, Threesome '65 will keep me very happy indeed.
(Mark Smotroff is an avid vinyl collector who has also worked in marketing communications for decades. He has reviewed music for AudiophileReview.com, among others, and you can see more of his impressive resume at LinkedIn.)