The Lyric Euphonium – 4barsrest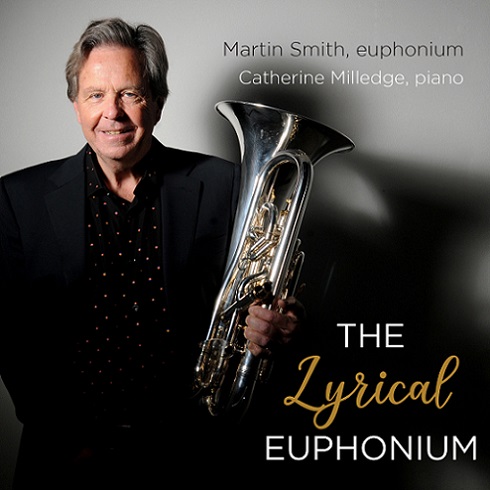 The joy of lifelong learning and making music underpins this engaging outing from a player who has returned to higher education and marching band after an extended hiatus.
After 35 years of enjoying pursuing sporting interests, Martin Smith took up the euphonium again – becoming a Fellow of Trinity College London (FTCL) and completing his Masters in Performance at the Royal Welsh College of Music & Drama.
Balance
As demonstrated by the performances of the 16 tracks accompanied with splendid musicality by pianist Catherine Milledge, the accomplishment through a balance between determination and ambition is also found in the bespoke realism of his musical endeavours.
The familiar recital solo elements – from Elgar's musical engagement letter to his future wife Alice Roberts in 'Salut D'Amour' to the 'Flower Song' from 'Carmen' are played with a clever appreciation of style and technical.
The familiar elements of the solo recital – from Elgar's musical engagement letter to his future wife Alice Roberts in 'Hello Love' to 'Flower Song' of 'Carmen' are played with an intelligent appreciation of style and technique.
graceful lines
There are also four new compositions and arrangements.
The graceful lines of 'Red kite' by Rob Wiffin captures the beauty of the bird of prey which has been successfully reintroduced to the hills of mid Wales (also after a long hiatus of over 35 years), while Rodney Newton 'Saraband' with its Handel Notes is dedicated to Morfydd Childs, the mother of Martin's tutor, Dr. Robert Childs.
The fluid vision of Rom Stanko 'deep river', made famous by the great Paul Robeson is touchingly evocative and contrasts with that of Capuzzi 'Allegro Moderato & Andante Cantabile' – an elegant piece of Venetian Baroque arranged by David Childs and Martin Smith to complement a concerto by a composer called "the Orpheus of his time" but now long forgotten.
Iwan Fox
---
To buy:
https://www.martinsmitheuphonium.com/
Playlist:
1. Salut D'Amour (Elgar trans. R. Childs & N. Childs)
2. Oh Shenandoah (trans. arr. James Stevens)
3. Song of India (Rimsky-Korsakov arr. Eric Wilson)
4. Una Voce Poco Fa (Rossini arr. Rimmer)
5. The Red Kite (Rob Wiffin OBE)
6. Rusalka's Song to the Moon (Dvorak arr. Eric Wilson)
7. Someone to Watch Over Me (Gershwin arr. Joseph Turrin)
8. Nocturne in blue and gold (Cecilia McDowall)
9. Sonatina Sarabande (Rodney Newton)
10. Concerto for Double Bass (Capuzzi arr. David Childs & Martin Smith)
I. Moderate Allegro
ii. Andante cantabile
12. A Little Prayer (Evelyn Glennie arr. Dr. Robert Childs)
13. Songs of a Traveler (Mahler arr. James Curnow)
14. Kashmiri Song (Amy Woodforde-Finden arr/edit Childs/Wilby)
15. Deep River (trans. arr. Rom Stanko)
16. Flower Song by Carmen (Bizet arr. Eric Wilson)
Support us for less than a cup of coffee…
4BR wants to ensure that the marching band movement remains vibrant and relevant. We also want to be able to question, challenge and critically examine those who direct and play there, producing high quality journalism that informs and entertains our readers.
So if, like us, you value a strong, independent perspective on the world of brass bands – then why not consider becoming a supporter and help secure our future and that of a thriving brass band movement.
So one less cappuccino?
Support us