Steve Reich – Reich/Richter CD Review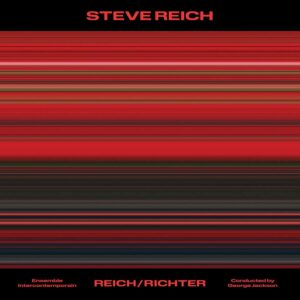 Steve Reich
Reich/Richter
Ensemble Intercontemporain, George Jackson, conductor
Incomparable
Steve Reich has long admired the work of Gerhard Richter, whose abstraction and ties to minimalism seem tailor-made for a collaboration with the composer. The artist's film Animated picture (946-3)directed with Corrina Belz and based on Richter's book Grounds, provided such an opportunity. Reich/Richter was composed to be performed alongside the film and received over a hundred performances at screenings as of 2019. This audio recording of the work is amply entertaining on its own.
The piece is clearly Reich, with ostinatos, polyrhythms and full-bodied harmonies interacting throughout. The use of pitched percussion, piano and strings (with a particularly extended double bass part) creates a sinfonietta which is an extension of the instrumentation of many of Reich's key works. The use of large solo wind passages is particularly suited to the Ensemble Intercontemporain. However, it would be a mistake to simply analogize it with earlier work. Reich/Richter is distinctive in itself. The directness of the harmonic progressions, which in the inner cadences are sometimes counteracted by deceptive counterfeits but in the final sections are emphatic, suggests harmonic scaffolding with considerable long-term planning. The structuring of the rhythm is also rigorous. Belz spoke of the organization of film into "pixels", and Reich used a time scale of rhythmic values ​​to respond to rows of pixels. The end result breaks down the composer's faithful polyrhythms into different, sometimes surprising groupings.
The Ensemble Intercontemporain, conducted by George Jackson, performs a rhythmically incisive and expressive interpretation of Reich/Richter. Not so long ago, the group performing Reich would have been out of place. It's refreshing that these stylistic barriers have fallen so that excellent ensembles known for their take on modernism can have a crack at minimalism. Reich/Richter is a lively and striking work that shows as many departures from its octogenarian creator as pillars of Reich's creativity.