Mark Turner – Return of the Stars (CD Review)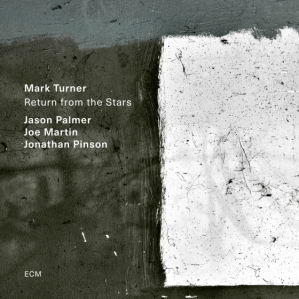 Mark Turner
Return of the Stars
Mark Turner, saxophone; Jason Palmer, trumpet; Joe Martin, double bass, Jonathan Pinson, drums
ECM recordings
In recent years saxophonist Mark Turner has appeared as a collaborator on a number of ECM recordings, including CDs with Billy Hart and Ethan Iverson. His last, Return of the stars, is the first quartet release he has recorded for the label as a leader since 2014 sky tower. Joining Turner are trumpeter Jason Palmer, bassist Joe Martin and drummer Jonathan Pinson. All the tunes are Turner originals, and he shows versatility and depth as a writer. As sky tower is the name of a novel by Ursula K. LeGuin, Return of the Stars refers to a totemic science fiction book by Stanislav Lem. There are no electronic or sci-fi effects that suggest space, but the wind solos and flowing rhythm section suggest music soaring.
The title composition has a mysterious cast, beginning with the tune described by trumpet and saxophone with heterophonic embellishments of both winds and a sotto voce rhythm part. The lines begin to intertwine only to converge again, with Martin interspersing a marching line that provides another melody to the action. Pinson builds on Martin's gestures, swelling to a dynamic presence. Turner is a generous collaborator, eager to showcase his colleagues alongside his own game. Palmer has considerable solo time. Its long and rhythmically varied on "It's not Alright" is particularly remarkable for its virtuosity and taste in the formation of numerous refrains. The tune also includes Turner and Palmer playing fleet renditions of the tune in octaves completely together. On "Wasteland", they play a duet in rhythmic unison but in ever-changing intervals. Martin and Pinson relate to it in an abstract way. Just when you think they're on a tangent, the band syncs up, with Martin providing harmonic support and Pinson landing with him to articulate the end points.
Several of the tracks stretch out, but "Unacceptable" is the longest form, with cat-and-mouse cannons leading into overlapping winds. A melodic cell is played in intervals and then developed as the main motif in octaves. The winds overwhelm at their cadence points, giving way to breaks from the rhythm section followed by solo turns. Turner's is chromatic, vibrant in tone and filled with scalar passages that develop and recall the refrain. The cannon playing returns, followed by a languorous trumpet solo and then a warm wind duet. The ending is a beautiful denouement, with the wind duo slowing down to pianissimo and the rhythm section equally muffled.
A complex piece, "Unacceptable" suggests that Turner would do well to arrange some of his compositions for larger ensembles: perhaps ECM will take care of that in a future recording project. Waiting, Return of the Stars provides the listener with plenty of fascinating music to savor.
-Christian Carey