Erwin Helfer resurfaces with new CD and instruction book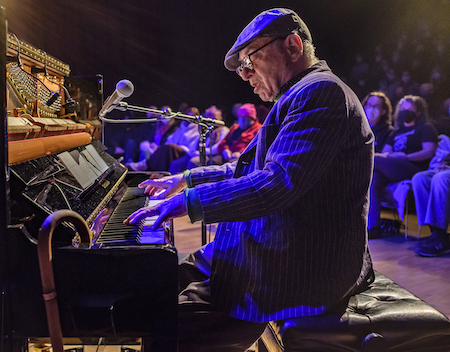 ---
By Howard MandelIMarch 29, 2022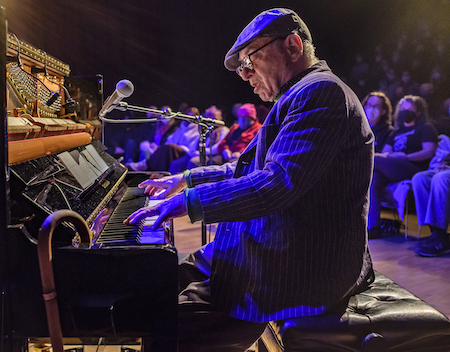 Blues, boogie, jazz and American roots pianist Erwin Helfer is the unlikely but grateful poster boy for surviving the COVID-19 pandemic. Hospitalized in the spring of 2020 for severe depression brought on by forced isolation, he was saved by electroconvulsive therapy – aka shock treatment. In January 2022, he celebrated his 86th birthday at the Old Town School of Folk Music in Chicago, following the release of his new band album, Celebrate the journey, and an educational booklet, Blues Piano and how to play it.
"There were three reasons I fell into this black hole," Helfer explained in a phone interview. "First of all, I couldn't play." Until concert halls were closed against the spread of the disease, he played weekly, both solo and with a band. "Second, I couldn't teach." Helfer has long taught children and adults in the living room of his home on a street the city has designated as "Erwin Helfer Way." Myra Melford, a former student of whom he is particularly proud, often considers his first lessons as fundamental. "Third, I couldn't access my finances."
Although financially secure, Helfer was not a fan of online banking, usually cycling to his nearby branch to do business. That was no longer possible either. Alone at home, he slipped into unfounded fears and a whirlwind of delusions. Friends, including Steven Dolins, manager of The Sirens Records, who released several of Helfer's albums and published his book, were increasingly alarmed by his unusual pessimism, cycle of despair and lapses in self-care. They took him to Rush Memorial Hospital, where he spent six weeks and underwent 11 separate electroshock sessions.
"I was scheduled for the 12th, but I didn't need the last one," says Erwin. He moved back to a clean house and his new roommate, singer Katherine Davis, who worked locally and toured internationally with the pianist. She brought a cat and a dog with her – a godsend for Helfer, an animal lover.
Although at first Helfer refused to play, feeling he had lost motivation and his chops were down. But the music he immersed himself in since he was a high school student in the early 1950s set him back. A television presenter had arranged for a piano to be in the studio where he interviewed Helfer. Erwin approached it, sat down and played a song. The feeling was there, and the pianist was encouraged. As opportunities opened up in 2021, he resumed both teaching and performing, including a semi-regular schedule at the Hungry Brain, a dive bar run by drummer-songwriter Mike Reed. and cornetist Josh Berman.
On stage, Helfer is an outgoing and original artist. He revisits classic repertoire such as Jelly Roll Morton's "Sweet Substitute" and Avery Parrish's "After Hours", reinvigorates standards like "Swanee River" with an upbeat treatment, delves into masterpieces such as "Pinetop's Boogie" and also sprinkles corny jokes. as his own compositions, such as "Daydreaming", which imbue blues forms with influences he absorbed from Johann Sebastian Bach, Bela Bartók and Thelonious Monk, as well as Jimmy Yancey ("The Mozart of Blues", the calls Helfer) and Otis Spann. In his hands, the disparate threads flow naturally. The organic nature of his art is authentic, developed over a lifetime of learning, appreciation and practice.
Born into a family that enjoyed weekend musical evenings – "My dad was a very good bathtub bass player", he recalls – Helfer picked tunes by ear as a teenager and became a protege of Bill Russell, co-author of Jazzmen (the first American book about the early players of New Orleans), an avant-garde classical composer, record store owner, record producer, violinist and collector of ephemera finally published in the album of the encyclopedia Oh, Mr. Jelly. Through Russell, Helfer met musicians who had been at the birth of jazz, such as drummer Baby Dodds.
Enrolling at Tulane University in New Orleans (where Russell had moved), Helfer befriended early jazz artists such as trumpeter De De Pierce and his pianist-singer wife Wilhelmina Madson Goodson, known as Billie Pierce. In 1957, he featured her with Doug Suggs, James "The Bat" Robinson, and rediscovered St. Louis-based boogie master Speckled Red on Primitive Piano, produced on his own Tone Records. It was the first of several projects initiated by Helfer, bringing together blues and boogie players Blind John Davis, Willie Mabon, Sunnyland Slim and Jimmy Walker for heavy stampBarrelhouse Chuck, Detroit Junior and Pinetop Perkins for 8 hands on 88 keys.
He considers himself first and foremost as an autodidact. Although he earned a Bachelor of Arts from the American Conservatory of Music, which closed in 1991, and a Masters from Northeastern Illinois University ("I signed up because I was bored listening to myself "), Helfer had made his professional debut while still in high school, replacing Little Brother Montgomery as accompanist to Mama Estelle Yancy, Jimmy Yancy's widow. Their collaboration inspired one of his signature compositions, "Stella", and continued until his death at age 90 in 1986. In 1983 they recorded a duet album, Maybe I'll cry.
But Erwin had long since expanded his blues activities. During the '60s, he had given piano lessons to harmonica-playing bandleader Paul Butterfield, recorded the single 'Drunken Boat' / 'Whole Lotta Soul', written by Nick Gravenites with edgy breaks of AACM trumpeter Lester Bowie and saxophonist Roscoe Mitchell, and tried new technologies on Chess Records Moogie Woogie (which he regrets). He played with Mississippi Delta guitarist Big Joe Williams and folksinger Barbara Dane, brought guitarist Eddie Taylor, one-armed harmonica player John Wrencher and a weekly puppet show to a popular Lincoln Avenue bar, and dove in the Great American Songbook for his first solo album. , On the sunny side of the streetfeaturing soprano saxophonist Clark Dean, legendary drummers SP Leary and Odie Payne, and bassists Truck Parnham, Eddie Calhoun and Betty Dupree.
Helfer's discography has grown steadily, with seven albums since 2002 from The Sirens Records documenting his solos, trios and large ensembles covering compositions by Duke Ellington, Ray Charles and Fats Waller, among others. Celebrate the journey has him lead a band with paired tenor saxophonists John Brumbach and Skinny Williams. Piano Blues and how to play it is a comprehensive instructional volume, useful for players of all skill levels, detailing the basics and nuances, all backed by its saying that "the best way to learn to play blues and jazz is to 'hang out' with the people who play it and listen obsessively to recordings of the music.
Such was the pianist's blues-boogie-jazz-roots upbringing, which he allowed newcomers to similarly pursue when he's at the piano bench at home, teaching at the annual Augusta Heritage Center Blues Camp. in Elkins, West Virginia, while touring Europe, or playing parties and benefits for progressive causes in Chicago. The extreme depression he suffered and the unusual healthcare that cured him appear to have left no lasting ill effects. A gentle and modest man, he reserves appearances in the future. His blues express the range of emotions from sadness to joy. He simply sums up his experiences. "I feel really lucky," says the pianist. Listeners share this good fortune when they listen to the music of Erwin Helfer. comics
---
​Ron Miles: 1963–2022

March 10, 2022 12:06

Ron Miles, the Denver-based cornetist, composer, educator, bandleader, and simpatico sideman who shared the stages and…

The cooks are, left to right, George Cables, Billy Hart, Donald Harrison, Eddie Henderson, David Weiss, Billy Harper and Cecil McBee.

8 Feb 2022 12:12 PM

In July 2020, four months after COVID-19 locked down the world, The Cookers entered Van Gelder Studio to record To see…

Tierney Sutton, right, and Serge Merlaud.

February 9, 2022 06:00

Singer Tierney Sutton has released a beautiful new ballad, "I Knew I Loved You". This is the first single from…

New Orleans is gearing up for this year's return of the Jazz & Heritage Festival.

8 Feb 2022 12:05 p.m.

There were a lot of people riding on the 37th annual New Orleans Jazz and Heritage Festival, where tens of thousands of music…

"Don Cherry had his own original thing going…and you can't replicate it," says Randy Brecker.

March 20, 2022 10:45 p.m.

Randy Brecker performed four blind tests, according to DownBeat records. This was his first in a long time…