20 fun ways to organize and display your vinyl collection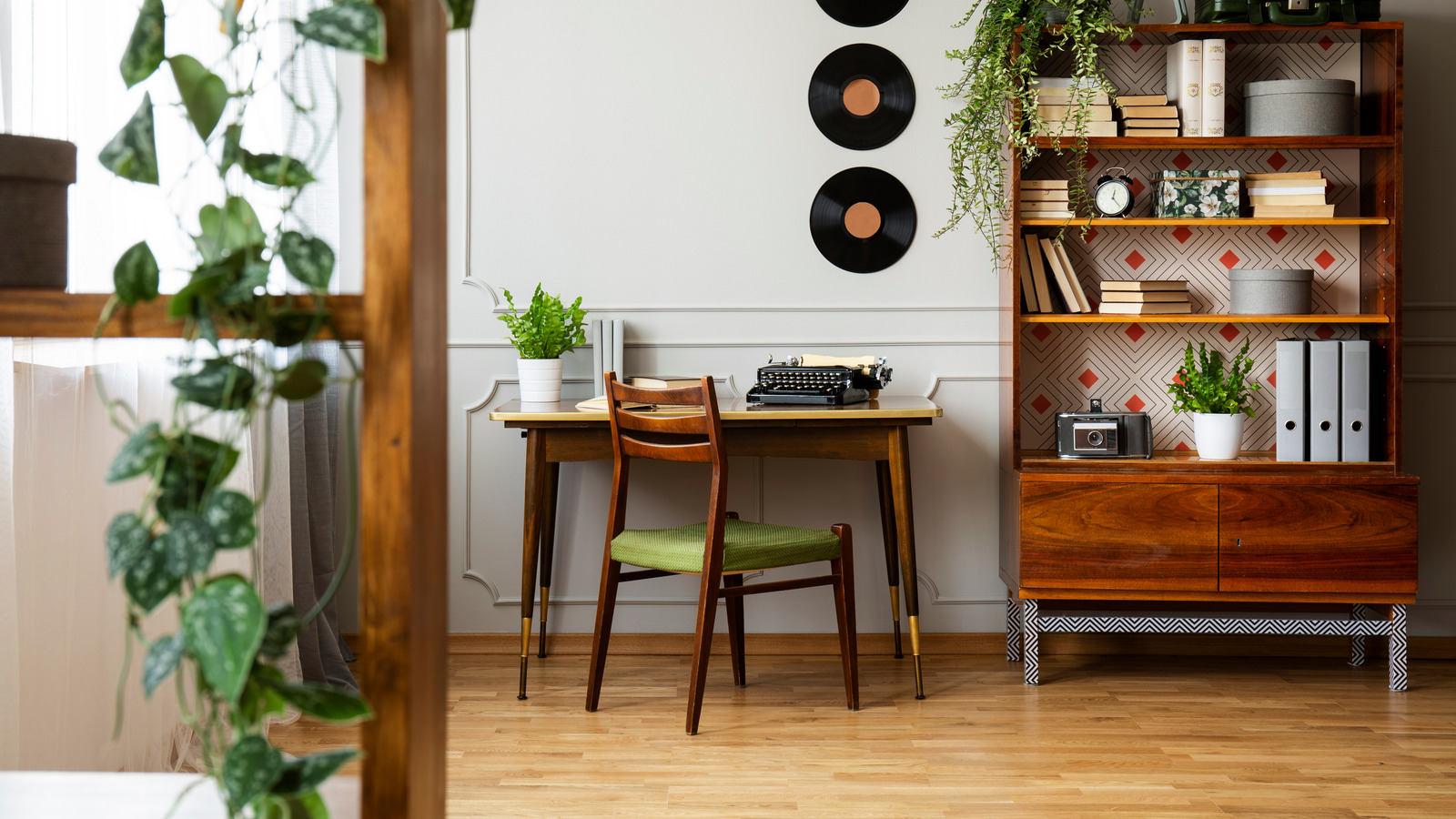 Photographee.eu/Shutterstock
Vinyl records are less convenient and more expensive than digital music. So why are they still sold and appreciated today?
Maybe because the retro look of vinyl can remind us of the past. Using vinyl in interior decorating can create a nostalgic vibe in a room. It also allows individuals to proudly display their musical tastes. Records can be fun collectibles at old vintage or thrift stores, for example. Inside hook. Plus, some claim that vinyl sounds better than digital recordings – or, if not better, at least different. While digital music only affects our sense of hearing, vinyl also impacts our sight and touch (and possibly our sense of smell, if your record is truly vintage). It can make you feel more connected to the music.
If you're a vinyl lover, you might want to display your collection in your home. Vinyl records generally have a simplistic and appealing appearance. Record covers can also become great decorative pieces. To create an impactful space, you will need to organize your collection in an attractive and useful way. Below are 20 fun ways to organize and display your vinyl collection.
1. As wall art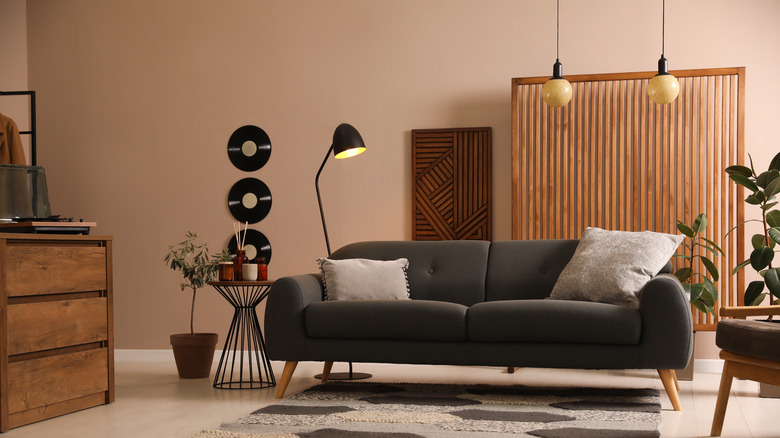 New Africa/Shutterstock
Discs outside their jackets can make great wall art. Displaying them in a vertical line will draw the eye into a space. Typically, the discs are glossy black, but they're also available in just about every color imaginable (including transparent). A colored disc could enliven a neutral space.
2. On a shelf
A recording could also be displayed on a shelf. Placing a smaller piece of artwork in front, as demonstrated above, can add a dynamic, layered look. Filling the rest of the library with books and other decorative items will create an eclectic vibe.
3. On a floating shelf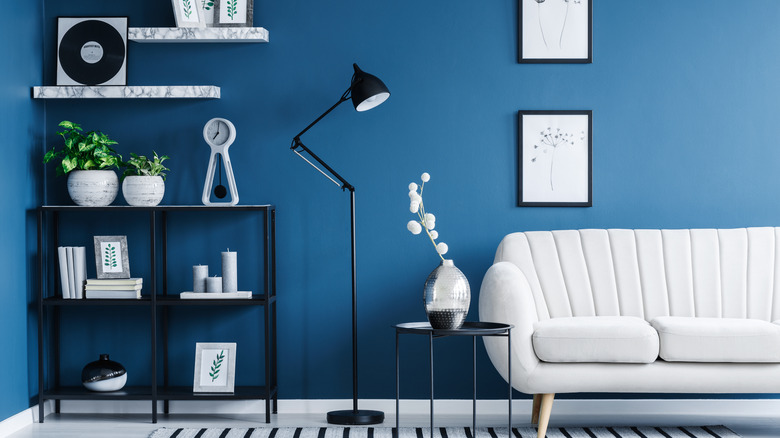 Photographee.eu/Shutterstock
Similarly, a record could be displayed on a floating shelf. Displaying your discs for everyone to see will not only make them fun decor, but also make them easily accessible. When you want to listen to music, simply remove it from the shelf and place it on your turntable.
4. In a record player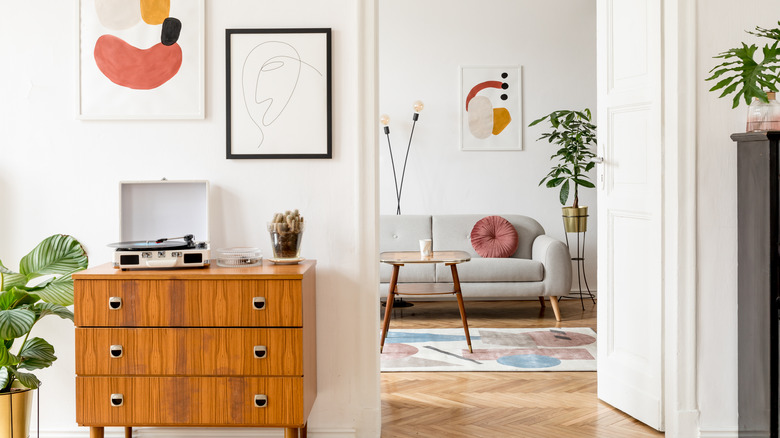 FollowtheStream/Shutterstock
A fun way to store and display vinyl is to keep a record in your record player. This will make your home look lived in and comfortable. It will also make listening to music more convenient. Simply place the needle in the groove and let it play.
5. In an entertainment center
Storing vinyl in an entertainment center is an easy and accessible storage option. Placing it on a shelf that allows each piece to stand perfectly will give it a useful look. Adding these pieces to an already retro room with vintage wallpaper and colorful furniture will give your space a cohesive look.
6. In a table locker
Some vinyl racks come with compartments that fit jackets perfectly. This will make your collection feel like it belongs in that piece of furniture. And it will make your vinyl easily accessible as everything is stored right next to the record player.
7. Cover a wall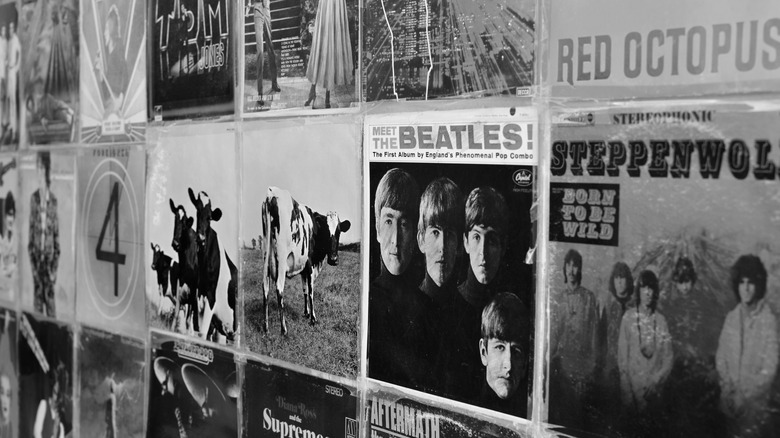 dimitris_k/Shutterstock
To really show off your musical tastes, you can line a wall with record covers. This would create the look of a unique, custom wallpaper and would be ideal for a feature wall. It would add a lot of interest and character to any room.
8. At the bottom of a console
If you have a large collection, lining your vinyl covers along the bottom shelf of a console table with your player sitting on top can create an interesting and beautiful storage solution. Decorating with colorful furniture will give your space a retro feel.
9. In a wooden case
Wooden crates are perfect for storing vinyl. When placed upright, most jackets should line up perfectly in a crate. Or, you can turn the crate on its side to create a natural looking storage shelf.
10. In a cube shelf
A cubic shelf can easily hold vinyl jackets. To create a less cluttered and more eclectic look, you can angle the jackets all over the place, as pictured above. For a more tidy and minimalist look, you can stack them vertically in a few cubic racks.
11. Showed Off Jackets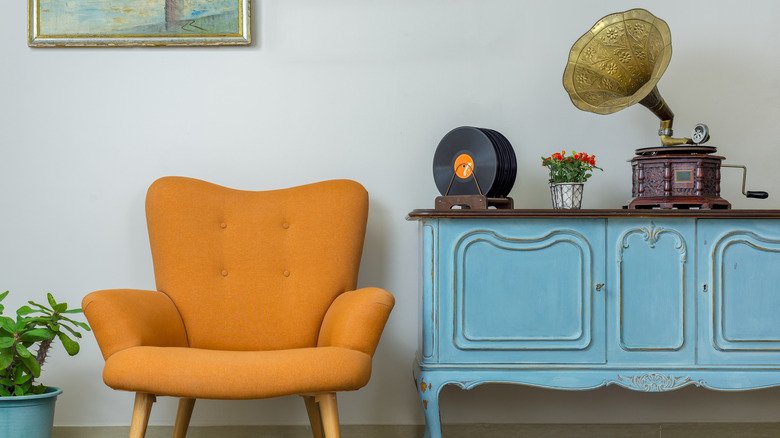 Khaled El Adawy/Shutterstock
Taking records out of their sleeves and displaying them on a table will give your space a vintage touch. Because the discs are round, they will add more interest to your space. However, it might not be a good option for really vintage vinyl, as parts can get dirty or damaged.
12. Behind a desk
A record can be a beautiful work of art. Placing one in a display case and displaying it behind your desk can add a fun touch to your space. Since most vinyl has a simplistic black design, this piece of art shouldn't distract you from your work.
13. Stacked next to a record player
The vinyl could also be displayed in a large pile next to the player. When using this method, only the very edge of the jackets will be shown. Therefore, it will give a mostly monochromatic look, which can make this an ideal choice for rooms that are completely neutral.
14. Framed and hung
You can place several discs in a large frame and hang them on the wall, which would create a nostalgic feeling. However, if you use this method, only show recordings that you don't usually use, because you probably won't want to unmount the frame every time you listen to music.
15. Speaker Backed
For a simplistic appearance, lean your vinyl jackets against a large speaker. This will make your recordings easily accessible and also create an attractive display. It might also remind the viewer of an old-fashioned vinyl store filled with stacks and stacks of records.
16. On a Skinny Shelf
A record in a display case might be on display on a skinny shelf. It would bring a personal element to your space. When displaying on a slim bookcase, it's a good idea to give the disc its own shelf, so it can really shine.
17. Used as a layering piece
A disc can be used as a layering element to create a more dynamic look. Placing a record behind another piece of decor can lend a subtle vintage look to a space that won't draw much attention.
18. On a gallery wall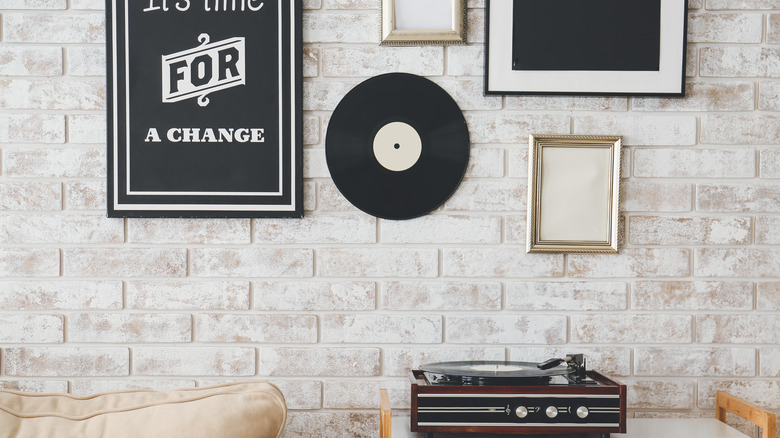 Pixel-Shot/Shutterstock
When used on a gallery wall, a disc can help break up the straight lines of many rectangular or square frames. It's also a great piece to use in a mostly neutral gallery wall, as the glossy black look doesn't demand attention.
19. Lined up in threes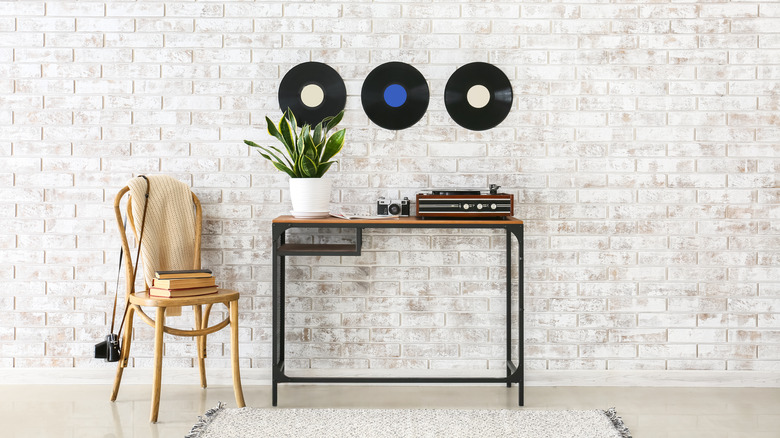 Pixel-Shot/Shutterstock
When posting records on the wall, it is best to put them in groups of odd numbers. You've probably heard of the rule of thirds in photography and art, but it's also a good rule for decorating. Try hanging them in groups of three for an impactful look.
20. On vinyl
Igor_83/Shutterstock
You can purchase a rack specifically designed to hold vinyl jackets. This display case is made of wood with black dividers to help jackets stand upright. It also has an extra space on the edge to hold your phone or a decorative item.